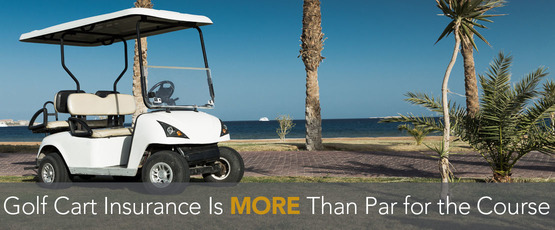 Though golf carts are often associated with leisure and sunny skies, they also come with all of the potential perils that other forms of mechanized transportation present. And much like your car – a mode of transportation that can reach speeds over 20 mph – your golf cart can be subject to damage, collision, or theft. That is where golf cart insurance enters the fairway.
These days, golf carts have more uses than just within the game. Some include:
Utility vehicles on the grounds of residences or commercial properties
General transportation within retirement communities. Good examples are The Villages in Central Florida and Sun City Center in Hillsborough County, Florida.
On Florida colleges campuses. In fact, at least one Florida college published safety regulations for their use.
Like all insurance, it is the difference between your insurance covering an event versus you paying out of pocket for an incident. For example, when driving you swerve to hit an animal and come face to face with another golf cart instead. The driver of the other golf cart has a broken arm and damage to their golf cart. Without golf cart insurance, you may be liable for the damage to their golf cart as well as medical bills.

Kinds of Risks and Available Protection
The kinds of risks resulting from owning and using a golf cart include:

Theft
Fire
Flood
Vandalism
Collision
Liability for causing damage to someone else's property or for their physical injury
An American Integrity golf cart insurance policy can protect against other risks, too:
Medical payments up to $10,000. This can pay for medical expenses resulting from a golf cart mishap.
Bodily Injury Liability Coverage to protect you from personal liability to others in case of your negligence in the ownership or operation of a golf cart. Protection is available up to $250,000 per person and $500,000 per occurrence, along with $250,000 for property damage liability coverage. Other liability coverage is available that you can discuss with your American Integrity Insurance agent.
Uninsured/Underinsured Motorist - This can pay you or certain other people for injuries resulting from a collision with another vehicle when they have no liability insurance or less than you do.
Helmet and Safety Apparel - An American Integrity golf cart insurance policy provides coverage of up to $1,500 for certain losses to helmets and safety apparel that you are wearing while in the golf cart.
Optional Equipment Coverage. Coverage is provided for certain equipment in the golf cart that did not come as standard equipment.
A standalone golf cart policy can protect your investment in the golf cart. It also protects you and your assets from claims of others who get hurt or have property damaged from the operation of your golf cart as well as compensate you for injuries that you suffer due to the carelessness of others.