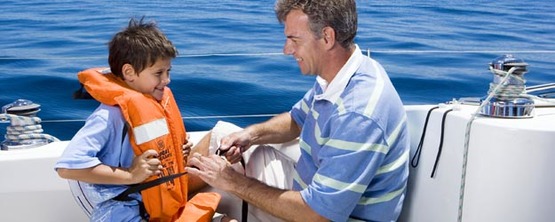 It's smart to be safe while you're boating. It's even smarter to be safe and thrifty.
Insurance providers often offer discounts for boat owners who complete boating basics or safety courses. The best news: You may already qualify!
In most states, boaters need to pass a course of basic skills and knowledge before they can legally operate a boat. If you already have, check with your independent insurance agent on whether the course you took qualifies you for a discount.
If not, your state boating authority can steer you to approved classes. State certification courses follow the standards of the National Association of State Boating Law Administrators (NASBLA).
Taking such a course typically results in a boating license or certification, not just a potential insurance discount. Local clubs and organizations, community colleges and independent instructors offer a mix of classroom and home study courses, as well as hands-on training.
Learn: The Basics of Boating Safety
A basic course covers just that: the basics you need to know to operate a boat safely. Topics of instruction can include:
The proper techniques for docking, mooring and anchoring.

How to avoid collisions and respect others in or on the water, including snorkelers and smaller boats.

What to do if your boat capsizes, someone falls overboard, a fire breaks out or your boat runs aground.

Using safety equipment, such as life jackets, fire extinguishers and distress signals.

Basic navigation rules and equipment.
Save: Get the Maximum Boat Insurance Discount Possible
To get the maximum discount available from your insurer, consult with one of our agents before you sign up for a course. The basics may be enough to earn your state certification. But, some insurance providers offer additional discounts if you take a safety course through groups like the U.S. Coast Guard Auxiliary or U.S. Power Squadrons. Both organizations have local affiliates across the country.
Saving on boat insurance while learning how to be a safe boater? Who wouldn't be all aboard for that?!